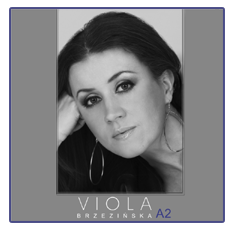 NEWS
---
TVN Warszawa
2009-01-16
On sunday 18th of January you have to watch a program "Rhythm of the city" on TVN Warszawa. There you will see Viola and Mateusz Pospieszalski as guests. Start - 10.30 a.m.
English version of the website activated
2008-12-11
English translation is ready!!!
English version of the website
2008-12-08
In a few days the English version of Viola's and Band's website will be available. The linguist- Basia Maliszewska is responsible for translating but for proper functioning of that we appreciate Maciek Filipowicz- the Administrator.
Photos from Poznań
2008-11-30
In Concert Photos you can now watch pictures from a concert in Poznań (30th November). The author of the photos is Janusz Kurzawski- www.kurzawski.livenet.pl
New photos from concert in Lublin
2008-11-21
If you go to Concert Photos, you will see the pictures of Viola and her group taken at a concert in Lublin on 26 October. The author of the pictures is Szymon OFMCap
A SOFT LANDING WITH VIOLA BRZEZIŃSKA
2008-11-19
On November 22 at 6:15 p.m. on TVP Info (Olsztyn) Viola will be a guest in a program of Maciek Wróbel called "Miękkie lądowanie" (Soft Landing). Maciek and Viola will talk, and you will also be able to watch a music video. There will be other surprises, too. Enjoy!
NEW ALBUM !!!
2008-11-06
Due to an unexpected animation in the GUESTBOOK concerning some new songs by Viola and her group, we inform you that for some time now the artists have been working on a new album. It is going to be an acoustic album with songs such as "Wybieleni", "Herbata z miodem" as well as many more new ones. The supervisor of the production will be a phenomenal musician, arranger and producer Marcin Pospieszalski.
We promise to keep you updated on the details concerning the work on the new album...
---