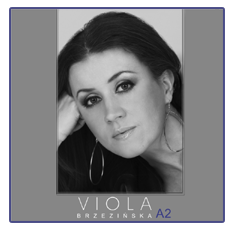 BIO
Viola Brzezinska
Born in Gizycko.
When she was 3 years old she gave her first concerts by singing the songs of her favourite artists accompanied by a performance of her own choreography. She used to sing everywhere, and everywhere was her stage, the playground teeter- totter, at school, during lessons, during break time, in a nearby hospital, and at church.
She participated in every local song festival.
She learnt to play the cello and the flute in primary music school. She also attended a secondary music school in Warsaw in Bednarska street.
When she was 17 she was noticed by Ela Zapendowska, who invited Viola to Warsaw for lessons in voice emission. Viola started working on improving her singing and musical skills, because Ela gave Viola an open invitation to attend at anytime for free.
There are lots of different interests in Viola's life besides music such as: movies, learning foreign languages, psychology, and travelling.
She appeared before a wider public for the first time in a TV talent show called Szansa na sukces (A Chance for Success) in which her brilliant performance of a song by Alicja Majewska entitled "Jeszcze się tam żagiel bieli" won her the first place.
In 1995 Viola won the first prize at the National Polish Song Festival in Opole.
Together with Edyta Gepert and other young artists performing at the festival in Opole she went to Israel to record carols for Polish TV. They were broadcasted at Christmas time in 1995.
In 1996 in Opole she performed "Szarości me", a song written especially for her by Jacek Cygan and Piotr Rubik. It topped the charts of a Polish TV program by Marek Niedźwiecki for weeks, and the music video was frequently broadcasted by the Polish TV.
She played the starring role in the famous Polish musical Metro. Not only did she sing, but also learnt a complicated choreography including tap, jazz, modern and classical dancing styles. All that at 19.
She performed with the Buffo theatre for 6 years, touring the whole of Poland and also in France.
In the meantime Viola recorded ads for national TV, e.g. a commercial of Coca- Cola, jingles and short advertisements for radio stations, as well as stories for children.
In 2001 she was awarded the first prize at the Festival of Young Talents in Rawa Mazowiecka.
In the same year she received honorable mention at a Jazz Competition in Łódź
Viola recorded songs to the following films: Spona, Amok, and Towar.
She sang on Robert Janson`s album Trzeci wymiar.
In 2000 she became the soloist of Saruel. They recorded together a few albums, studio recordings as well as live concerts. Saruel and Viola performed in different places in Poland as well as in Italy.
She worked together with the group 40 i 30/70.
Occasionally she performs at carol concerts with the Pospieszalski family.
She also sang with the famous British artist Chris de Burgh, Janusz Bigda, Krzysztof Krawczyk, Krzesimir Dębski, Piotr Rubik, Mariusz Czajka, Magda Anioł, as well as with the following groups: Full Power Spirit, Triquetra, choir Voce Angeli, TGD, De Mono.
Viola sang with the group Pneuma on their album entitled Kokon.
She has collaborated with Grzegorz Suski, the director and choreographer from both the Roma and the Buffo theatres.
Viola, together with the musicians from New Life'm, Lidka Pospieszalska and Basia Włodarska, teaches voice production at music workshops.
From 2003 to 2006 Viola collaborated with the group Viola i New Day. Together they recorded a few albums, e.g. Tam tam i tu, Najpiękniejsze kolędy i pastorałki, and Czarna płyta.
In 1995 the magazine Pani included her in the list of 100 Polish Women of the Year.
In May 2008 her first solo album Przystań was released
In June the same year she recorded a music video to the song "Druga po Bogu".
In 2008 an album entitled Czekanie of the choir Ex Nomine was published. The artists who were involved in the recording include Viola, Jorgos Skolias, Ewa Uryga, Patrycja Gola, and Mietek Szcześniak.
In the same year, the publishing group PWN-Cartablanca released a guidebook Polska według kobiet (Poland in the Eyes of Women). It contains a description of Viola`s favourite places in Poland.
Viola has contributed to the recording of a few songs on an album of Marcin Styczeń entitled 21 gramów.
In 2010 together with an extraordinary guitarist Sławomir Kosiński Viola recorded her new album Wśród nocnej ciszy. It was released in the same year.
In 2012 her second solo album A2 was published and it was chosen an album of the week on many radio stations.
In 2014 her next album Opowieści z Mądrej Księgi was released. It was devoted to kids.
In 2015 Viola published her fifth solo album Classical consisted of the greatest pieces of classical music.
In the same year Viola established cooperation with Robert Janson again. The fruit of this was a song Róża that came out on a cd Przygotuj się na miłość.
In February 2016, in Italy an album Pace a voi featuring Viola has been published by Italian actress Claudia Koll.