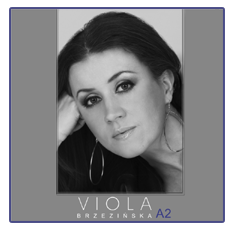 NEWS
---
"OCZEKIWANA ZMIANA MIEJSC" on the RADIO DLA CIEBIE
2012-07-23
This Saturday, on the 28th of July Viola will be a special guest of Adam Szeczyk in OCZEKIWANA ZMIANA MIEJSC - an absolutely remarkable broadcast. You can start listening to this at 4 p.m on the RADIO DLA CIEBIE. Click and find out more about this broadcast:
RDC - OCZEKIWANA ZMIANA MIEJSC
TYGODNIK GIŻYCKO
2012-07-20
Just click below and read an interview with Viola by Bogusław Zawadzki that came out in TYGODNIK GIŻYCKO.
tygodnikgizycko.pl/nr/08-mini.pdf
RDN Małopolska Hit Parade with Viola
2012-07-19
We're going to announce Viola's song HERBATA Z MIODEM was given a chance to become a song of July on RDN Małopolska Chart. Big thanks to all of you for clicking Viola right here (number 6)
www.rdn.pl
Brand new songs from A2
2012-07-14
We've just put several short pieces of totally brand new Viola's songs from A2. Click MUSIC and enjoy.
English translation of my website
2012-07-09
The English version of Viola's website has already kicked off.
New pictures from Viola's concert at Youth's Festival in Płock
2012-07-09
There is a bunch of photos from the concert in Płock.
Gallery - Concerts
MY NEW WEBSITE
2012-06-23
... just before the official premiere of my new album. I hope you'll like it. How it looks like and how it works, this is the merit of Agata Kosno-Jaczewska and Maciek Filipowicz.
THE BRAND NEW VIOLA'S ALBUM INFO
2012-06-16
A2 is my brainchild, the result of intensive creative efforts over four years. This work is culminated in a meticulous and very personal collection of 14 original songs. The title of the album has a two-fold meaning. On one hand it announces itself as my second solo album, while on the other, it refers to a highway in Poland named A2. The main theme of the album is that of a journey, not only in the physical sense, but also in the sense of the introspective, self-seeking journey inside one's soul accompanied with bliss hardships, enlightenments, concerns, timelessness and the fading of time…
The musical material is highly varied and portrays a wide range of influences, spanning many decades. These include: country and western in the song IDAHO, funk in PODRÓŻ W CZASIE, pop rock in NA MARGINESIE?, a 1960's soft rock a' la the Beatles in HORYZONT, and a permeating Mexican feel, owing to the expert playing of Latin-American percussion instruments by Tomas Celis Sanchez. In spite of all these musical influences, the album maintains a natural cohesiveness. This was achieved by the use of particular instruments. One of my goals for A2 was to create an acoustically natural and pure album. We employed many vintage instruments, such as a historic Wurlitzer piano, and old-school keyboards by Rhodes and Moog, as well as vintage recording equipment that included several vocal preamps dating from the 1950's and the 1970's in order to achieve this feeling.
There is one distinguishable feature of this collection which is the old- school, vintage sound style. The musical producer of Viola's new album is a highly acclaimed producer- Marcin Pospieszalski – a three times Fryderyk- Prize winner for the albums of Anna Maria Jopek, Raz Dwa Trzy and Mietek Szczesniak.
More...
MY NEW ALBUM- HURRRRRRRRRRRRRRRRRRRRaaaaaaaaa!
2012-06-14
My Dear! There is an official and absolutely marvellous news for all of you (including me certainly:))! My second solo album called "A2" is yet to come! The date of the premiere of "A2" is the 8th of October 2012! Yesterday I inked a contract with 4ever Music. More scoop soon!
Happy Easter
2012-04-07
to all of you! God bless you and your families abundantly with joy, peace and love!
---