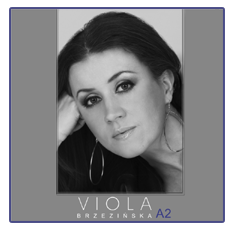 NEWS
---
MY NEW WEBSITE:)
2012-02-29
It's just got started. An accordate team: Agata Kosno-Jaczewska and Maciek Filipowicz are working through completely brand new Viola's website. The effects of their work we'll be visible in a couple of weeks.
New photos
2012-02-19
We've just put a bunch of brand new photos from Viola's concerts that took place in Chicago in January 2012. Photos were taken by Jacek Cwik. Pay a call on PHOTO GALLERY- PHOTOS FROM CONCERTS.
MERRY CHRISTMAS!
2011-12-23
Merry Christmas and everything what is the best, the most beautiful and the most developing for all of you in this approaching 2012 year!
Photos from the NLM Musical Workshops
2011-12-15
There is a bunch of new photos from Musical Workshops with NLM band and their friends(including Viola). The Workshops took place in November the 17th to 20th in Teresin.
Go to PHOTO GALLERY- PHOTOS FROM CONCERTS to see them and enjoy! The photos were taken by Andrzej Dubiel.
Merry Christmas
2009-12-25
Ladies and Gentlemen, Żenszcziny i Mużcziny, Signore e Signori!

Merry Christmas and a Happy New Year. Let God bless YOU in every domain of YOUR life.
Cd with Carols WŚRÓD NOCNEJ CISZY
2009-12-13

December the 7th that was a day when the new Viola's Carols cd was released.
Viola has recorded this album with an extraordinary guitarist Sławek Kosiński (cooperating for example with Urszula and Lombard).
On this cd you can hear 9 beautifully arranged carols. It is an absoulutely unic production because of its lyrical climate created by acoustic and classical guitars and beautiful colour of Viola's voice.
Everyone who loves simplicity and beauty will be delighted for sure.
Layout of the cover is made by Agata Kosno- Jaczewska.
There is a possibility to buy this cd on Viola's website and also the concerts.
In the beginning of 2010 Viola and Sławek accompanied by percussion of Kamil Cudzich are going to have several concerts. So, see ya then!
TO SEE MORE- VIDEO
2009-12-13
Right now you can see the brand new video to the song TO SEE MOREWIDZIEĆ WIĘCEJ!
One more time we would like to thank to Konrad Sikorski and Maciek Szczerbicki for their patience and for making this clip.
We hope you'll like this video like we do!

Christmas PROMOTION!
2009-12-06
Due to approaching Christmas time we would like to inform you that a special offer is prepared for all of Viola's Fans.

A promotion package includes: cd "Przystań", still new Carols cd "Wśród nocnej ciszy" and a single "To see more". Total cost of these 3 discs is 40 zl (plus post costs). You're invited!

(The promotion will last till the end of December 2009)
TYLKO MIŁOŚĆ (ONLY LOVE) - VIDEOCLIP
2009-10-02
Here it is! Long awaited videoclip to the song TYLKO MIŁOŚĆ! Made by Rafał Wieczyński - the director of the fllm titled POPIELUSZKO - Wolność jest w nas.

Photos from the last concert
2009-09-03
There are some new photos taken by Konrad Sikorski on the 30th of August. Click PHOTO GALLERY - CONCERTS and enjoy!
---